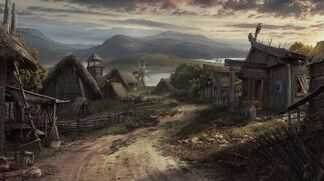 The unnamed Fishing Village was a riverside village in The Riverlands.
Zephyra Awen, Baern Hillstern, and Velimir Cetrovic, investigated the village after it failed to pay its taxes for a prolonged time. When the magistrates arrived, they found it to be infested with undead and the servants of the Necromancer King.
The village was built around a central marketplace, and contained a temple, docks, and a harbor. The village had a population of less then 100 people before the Necromancer King attacked.
Inhabitants
Edit
The village was infested with undead when the magistrates arrived. These included, disembodied hands, zombies, and skeletons. Servants of the Necromancer King were also present in the village. The only survivors of the village were two children, Thuy and Saum nang.